Children's services
Walsall Council offers fun-filled Holiday Activity and Food programme for 2023 Easter holidays
Eligible families are encouraged to register as the council opens registration for the Easter session of its hugely successful Holiday Activity and Food Programme.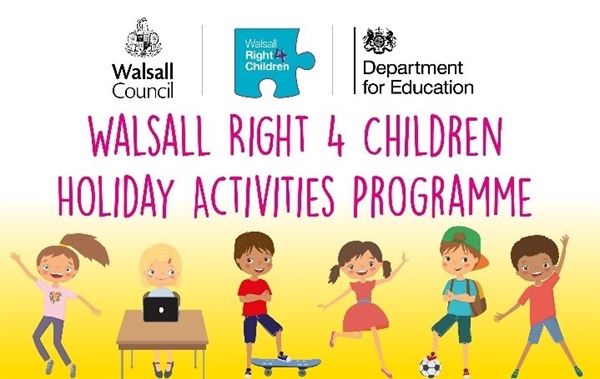 The council has worked with over 50 providers in the borough to offer Children and young people, fun, local activities, while providing the opportunity for learning and developing new skills. It's a great chance for children and young people to get together with friends and meet new people as well as the opportunity to try an activity they may not have done before. As part of the programme children are also given the opportunity to try out healthy and exciting recipes with their family.
Walsall Council was awarded £1.8m from Department for Education (DFE) funding to deliver the Holiday Activities and Food (HAF) programme in 2023. The programme is aimed at children and young people ages 5 to16 years, eligible for free school meals to offer healthy food and enriching activities for one week over the Easter break, for four weeks during the summer holidays and for a week over Christmas 2023  holidays.
" The successful Holiday Activity and Food Programme has received lots of really positive feedback from families that have accessed previous holiday sessions. We are very pleased to be able to offer the provision during the Easter break so that those families that need it most can benefit from additional support and opportunities.

Our providers work hard to offer and deliver fun-filled learning activities for the children and young people in the borough and have actively responded to feedback from parents and children to ensure that the needs of children and young people are met including refining provision for those young people with additional needs
"
The one-week Easter programme for 2023 will be available during the following dates:
03.04.23 – 06.04.23
Notes to Editors
Eligible families can register for the programme at any time during the year.  Activities for the summer programme will be available for booking from Monday 1st march 2023. Letters have been sent to families already registered with the programme containing a unique booking code for each child that is eligible so that they can register and to book places for the upcoming activities. Families can either do this online or call our helpline on 01922 653899.
Further information and details of how to register on the programme are available on the HAF website.
If your child has additional needs or special educational needs please make sure you state this on the registration form to ensure that the provider can make arrangements to meet the needs of your child.
Would you like to volunteer to support the HAF programme?
Walsall Right for Children (WR4C) is recruiting volunteers to help with a range of activities, delivering fulfilling holidays for children and young people. If you think this could be something you can support us with take a look at the website and register your interest.
Contact the team​​​​​​​
Walsall Right for Children (WR4C) facilitates the HAF programme and can be contacted by email at WR4C@walsall.gov.uk. Follow the team on Twitter for updates.
ENDS