Waste and recycling
A Better(idge) class of volunteer
Simon Betteridge, the proprietor of Betteridge Butchers in Bentley, Walsall, was awarded Hero of the Month on the UK Litter Picking Group's Facebook group for March.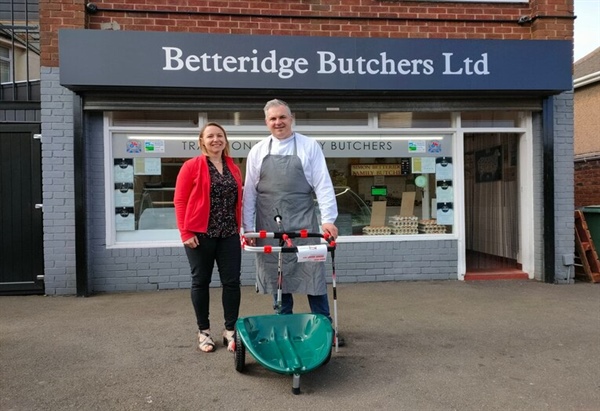 This site is run by Helping Hands who provide litter picking equipment across the whole of the UK. 
Simon was nominated by one of Walsall Council's volunteer coordinators in recognition of his continued enthusiasm and commitment for cleaning up the area he trades in. 
" Simon goes out every morning around 5am and litter picks the area outside his shop, but also the wider local area too. Simon was the first business to pledge to the council's litter charter. By pledging, Simon has committed to keeping his shop frontage clean, tidy and litter free. Simon has also helped the council to promote the litter charter, for example in an interview with BBC WM host Elise Evans where he told listeners why litter picking is important to him and encouraged other businesses to pledge as well. "
For being awarded Litter Hero of the month Simon has been given a folding litter picker and a Handi Cart to assist him with his litter picking.  These have been donated by Helping Hands.
" Hats off to you Simon for what you're doing for the community. Congratulations also for having a top-class food hygiene rating. "
" Congratulations to Simon, who won our Hero of the month award for March! We celebrate this award to recognise all of the extremely hard work community members are doing behind the scenes. We want to collectively say a huge thank you to them and hopefully inspire others to follow in their footsteps. "
~ENDS~
Note to Editor
Image: Simon is pictured receiving his folding litter picker and Handi Cart from Stacey Lovering of Helping hands.
Businesses can sign up to the litter charter here Corporate support and sponsorship
Simon is one of 722 registered volunteer litter pickers within Walsall who regularly litter pick to reinstate pride in their local community keeping it clean, tidy and litter free helping to create a cleaner greener Walsall. 
During the first three months of this year (2022) the volunteers collected 3,818 bags of litter giving 2,094 volunteer hours. 
To see all of the fantastic work the volunteers do please visit Walsall Community Litter Watch on Facebook.  Here you will also be able to see a calendar of community litter picking events that are taking place over the whole of Walsall for this year.
Anyone interested in becoming a volunteer litter picker will be provided with equipment free of charge and Walsall Council will also pick-up any bags of litter collected.  To register please visit  community_litter_picking or alternatively you can email cleanandgreen@walsall.gov.uk or call 01922 653344.