Over £500,000 invested in providing digital devices to improve digital skills and connectivity in Walsall
More than 1,500 devices have been distributed to residents and community organisations as part of a £500,000 investment in the Walsall Borough since April 2023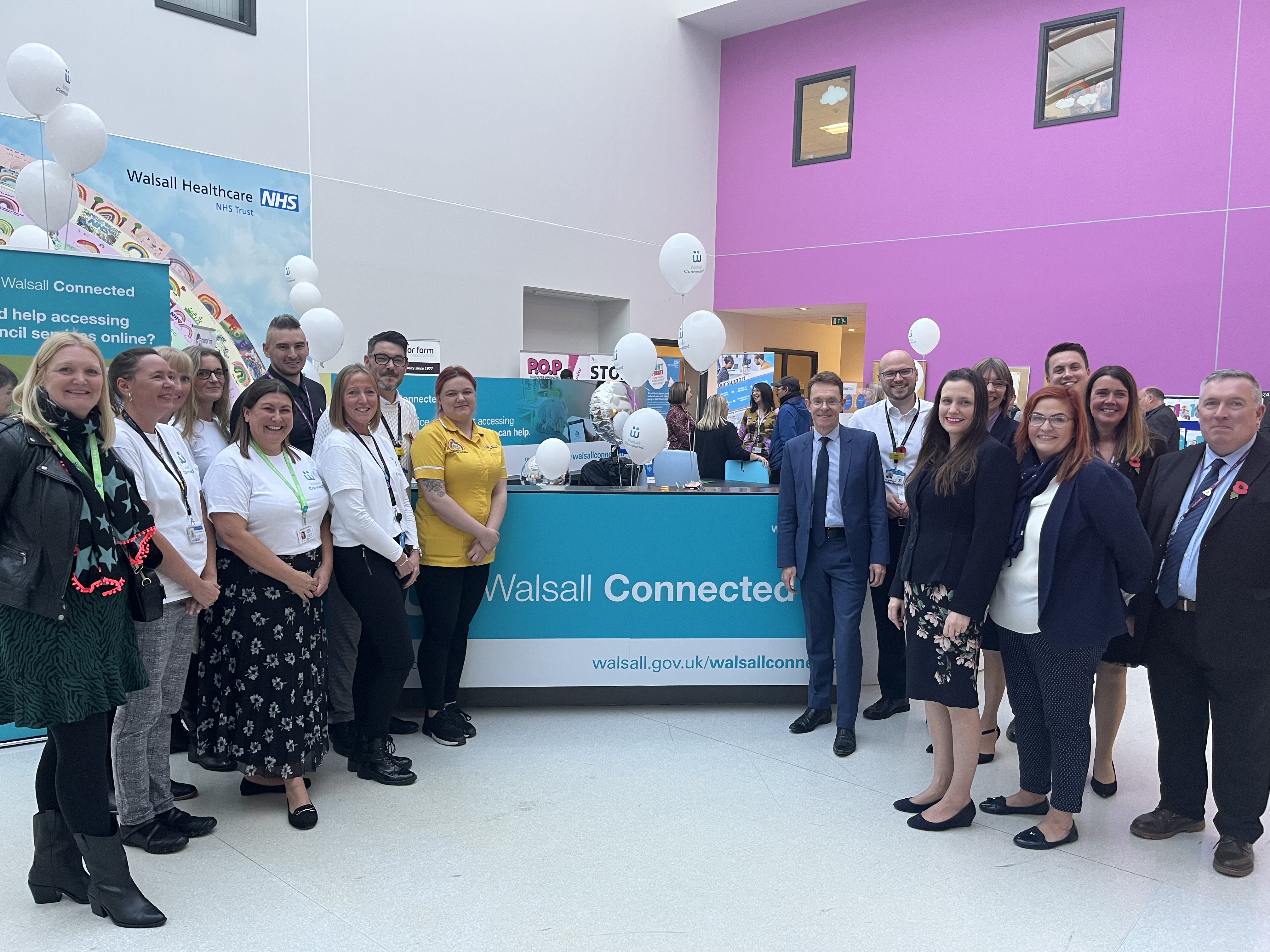 More than 1,500 devices have been distributed to residents and community organisations as part of a £500,000 investment in the Walsall Borough since April 2023. This is part of the West Midlands Combined Authority (WMCA) Connected Services Fund which aims to help people to get online in the region.
The WMCA, Walsall Council, Walsall Healthcare NHS Trust and community and voluntary sector partners, have joined forces to deliver the Connected Services programme The programme provides eligible residents with digital devices such as Chromebooks and laptops and with support from Walsall Connected also offers them help to be able to use them effectively to improve their day to day lives.
The innovative approach aims not only to help access council services and health and social care support they may need but also to prevent vulnerable people in the community feel less isolated by helping them make connections.
Andy Street, Mayor of the West Midlands and WMCA Chair, recently visited Walsall Manor Hospital to meet with partners and organisations that have been delivering the Connected Services Programme.
This work has been key in supporting residents most at risk of digital exclusion to help them to access and utilise the devices to help them in their day to day lives - accessing financial support, council services as well as improving their skills and job prospects.
" It's wonderful to have the chance to meet the voluntary and community sector organisations that have been instrumental in delivering these digital devices and the accompanying connectivity programme on the ground here in Walsall. They are fundamental to helping us identify those individuals that will most benefit from digital support.

I hope residents will sense the level of commitment we have given the provision of over £500,000 in WMCA funding for this programme. We recognise the importance of developing digital skills and widening access right across our region - ensuring no one is left behind in what is an increasingly digital world.

Whether it's accessing council services, health and social care support, financial guidance or new job opportunities, we know that programmes like these make a real tangible difference in the lives of local people and I cannot wait to see the results in the months and years ahead. "
" Today, we witnessed the remarkable impact of the Connected Services Programme which has been successfully delivered through our Walsall Connected network as we work together with the Walsall community to bridge digital divides, enhance job prospects, and combat social isolation.

It's a testament to the transformative potential of our collaborative efforts in the borough. "
" It was a pleasure to welcome The Mayor of the West Midlands to see first-hand the difference that Walsall Connected is making to many people's lives in our local communities.

As an organisation that is committed to playing its part in widening digital access to the people it serves, we are encouraged by the feedback that we have received so far about the success of siting such a facility in our hospital. I'd also like to thank the volunteers who support Walsall Connected and our Trust values. "
The primary objective of Walsall Connected is to facilitate self-service access to council online services 24-7. This is achieved through the provision of in-person support, specifically tailored to help the most vulnerable residents in the borough with a network of 29 support sites set up in libraries, community organisations and key partners.
Partner, Voluntary and Community Sector organisations that support Walsall Connected and were at the visit include; Walsall Libraries, Walsall Manor Hospital Team, Positive Outcomes Project, Admiral Nurses, YMCA, Rycroft Community Association, Manor Farm Community Association, Bloxwich Community partnership, Old Hall peoples partnership, Aaina Community Hub, Walsall Black sisters Collective, EasyPeaze App, The Refugee and Migrant Centre, Walsall Citizens Advice.