People and communities
Government grants awarded to support Walsall organisations deliver heritage activities
Three Walsall projects have been awarded funding to explore how heritage can connect people and communities, inspire others, build pride and celebrate the borough's rich heritage.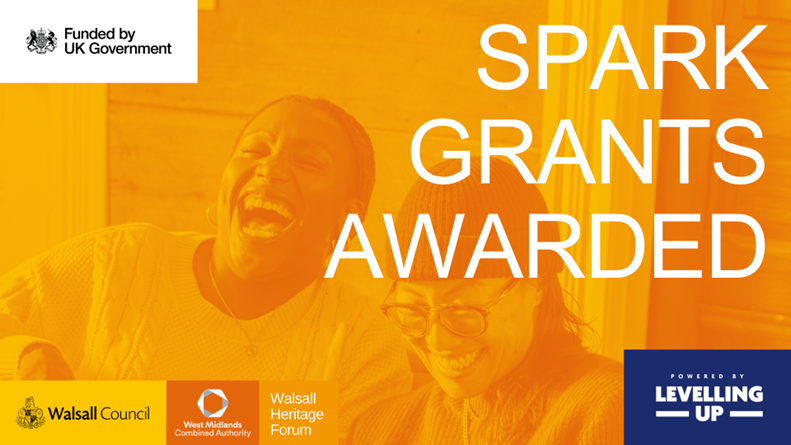 Building on the work of the Walsall Heritage Strategy (2021-2026), the Spark Grants will support local organisations to explore new partnerships and project ideas. This year, support has been enhanced by £20,000 grant funding allocated by the UK Government through the UK Shared Prosperity Fund (UKSPF). The grants are designed to enable local organisations to increase their reach and impact through collaboration.
" We are delighted with the projects awarded this brand new funding, and look forward to seeing their ideas come to fruition. Across the Borough, community-focused organisations work tirelessly to support our residents. These grants will support them to trial new ways of working and unlock our shared heritage. We hope that this is just the start, and that the Spark Grants act as catalysts for future activity. "
Those awarded include:
Plasma of Hope and Rose Tinted Financial, awarded £3,370, will unite children and young adults for immersive arts and creativity workshops across multiple borough heritage sites, sharing local history. Plasma of Hope supports individuals living with Sickle Cell Disease or other related illness. Their collaborator, Rose Tinted Financial, a local community interest company, provides free professional advice, help and community support.
Lifegate Communities, working in partnership with The New Art Gallery Walsall, have been awarded £3,300. Collaboratively, groups will explore African links in Walsall's public collections, and share their knowledge and responses, reducing barriers to access.
Kiondo awarded £3,950, with Boxout Community, will deliver community events blending music, education, and heritage to celebrate cultural diversity, fostering a sense of ownership and pride, revitalising the Grade II historic Hogs Head pub, in central Walsall.
ENDS.
Notes to editors:
This project is funded by the UK Government through UK Shared Prosperity Fund (UKSPF), Spark Grants are designed to facilitate new ideas and projects, and to enable local organisations to increase their reach and impact through collaboration.
UKSPF is a central pillar of the UK government's Levelling Up agenda and provides £2.6 billion of funding for local investment by March 2025. The Fund aims to improve pride in place and increase life chances across the UK investing in communities and place, supporting local business, and people and skills. For more information, visit https://www.gov.uk/government/publications/uk-shared-prosperity-fund-prospectus
The Walsall Heritage Strategy (2021-2026) is available to view online at https://go.walsall.gov.uk/museums-libraries-and-galleries/walsall-heritage-strategy
The strategy was adopted by Walsall Council and involves organisations including Historic England, Creative Black Country, One Walsall and Walsall Community Network. It encompasses the Borough's history, natural environment, architecture, archaeology and built heritage. It is hoped that the strategy, powered by the Walsall Heritage Forum, will be a vehicle for attracting funding and providing new economic and cultural opportunities for communities, businesses and visitors.