Health and wellbeing
Events supporting mental wellbeing in the community
The Community Wellbeing Events took place throughout February at venues in Rushall, Blakenall and Willenhall.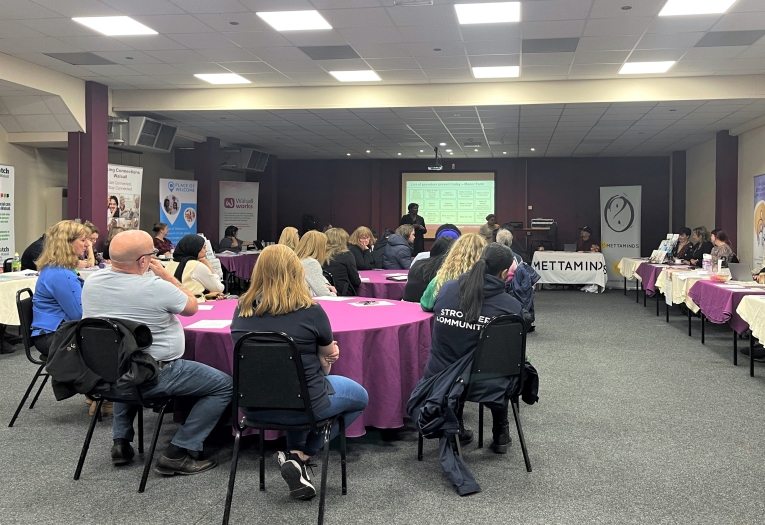 Three events have taken place across Walsall to offer providers and residents the opportunity to network and find out about wellbeing support available locally. 
The Community Wellbeing Events took place throughout February at Manor Farm Community Association, Walsall Arena & Arts Centre and Willenhall CHART Centre.  
Organised by Public Health Walsall in partnership with Department for Work and Pensions (DWP), attendees received information about how they could support their own and other people's wellbeing, access to support (such as bereavement, counselling and finance) and upcoming community grants and training. Free wellbeing plans and wellbeing bottles were also distributed to encourage people to understand what is important to keep them healthy, well and independent.  
Providers in attendance included Rethink, Bloxwich Community Partnership, Healthwatch, The MindKind Projects CIC, Walsall Bereavement Support Service, whg and many more. 
Over 160 people attended across the three events, describing them as informative and an opportunity to network with providers. The event has also helped people in accessing the support they need. 
" Working with local organisations, the community wellbeing events aimed to improve the wellbeing of the population. It provided opportunities for everyone to support one another and offer signposting to mental wellbeing services across the borough. These events have proved to be effective in increasing awareness of what is happening in the community. I would like to thank all the staff involved in organising these events and to providers and residents for getting involved.

If you need help with your mental wellbeing, support is available. The Black Country 24/7 Urgent Mental Helpline is open 24 hours a day, 7 days a week on 0800 008 6516 or by text: 07860 025 281. "
Residents and voluntary organisations who would like to deliver community projects on mental wellbeing are invited to attend one of two upcoming grant workshops this February. The workshops will provide advice on completing an application form and understanding the purpose of the grants. 
Wednesday 22 February - Grant funding to deliver projects for the general population, men and people who consider themselves to be neurodivergent 

Monday 27 February - Grant funding to deliver projects for and by young people 
Those who would like to attend one or both workshops can email mwwalsall@walsall.gov.uk for further information.
Notes to editor: 
Residents can download the free wellbeing plan from the Council website.
The wellbeing plan focuses on these eight steps: 
Be active 

Take notice 

Connect 

Give something to others 

Learn something new 

Hydration for wellbeing 

Sleep for wellbeing 

Hope for the future