People and communities
Walsall residents help raise over £900 for the Black Country Foodbank
Residents in Walsall have helped raise £956.50 for the Black Country Foodbank by taking part in the We are Walsall 2040 (WAW 2040) residents survey.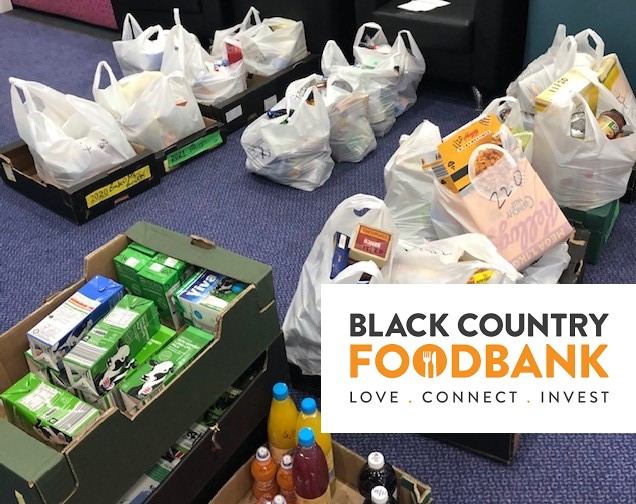 By the closing date (on 30 September 2022), the survey, run by BMG Research on behalf of Walsall Council, had amassed a total of 1,913 responses with BMG Research pledging to donate 50p for every response received.  
Jen Coleman from Black Country Foodbank said, "We are thrilled to receive such a generous donation which will help us provide essential food and other supplies to some of the most vulnerable people in our communities. With the continued cost of living crisis, more and more people are coming to us for support so any and all donations are most welcome.  
"We were particularly pleased as this gift came through an initiative which aims to improve the borough for the benefit of everyone – a vision we share and value. Thanks to all those residents who took part in the survey – your commitment to making the borough a better place in the future means you are making a real difference to the lives of those in need in your communities right now." 
Black Country Foodbank was set up in 2006 and is a Christian-based charitable organisation. It welcomes anyone in need, whether young, old, single or in a family and from whatever background, religious belief or ethnic origin. 
Walsall residents can visit a number of centres across the borough, including All Saint's Church Hall in Darlaston, The Rock in Walsall town centre, Bridge the Gap in Willenhall, The Thomas Project in Aldridge and The Lamp Foodbank in Brownhills. 
Donations can also be dropped off at these and other foodbank centres. Tinned and packet food and basic toiletries are always gratefully accepted. 
The WAW 2040 survey focussed on what people want the borough to be like in 2040 and analysis is still ongoing with results due to be shared soon.  
Jack Harper, Research Director at BMG said "We are extremely pleased so many people took the time to respond to the survey and in turn help raise this significant amount of money. With the ongoing cost of living crisis we are very happy to support the foodbank and that the money goes some way to helping those most in need." 
The WAW 2040 plan is being shaped by the views, experiences, ideas and ambitions of those who live, work, study, visit and do business in the borough. Ultimately it will help Walsall Council and its partners prioritise resources and develop shared ambitions for the whole Walsall area that works for everyone. 
You can find out more about We Are Walsall 2040 here: www.walsall.gov.uk/waw2040 and via our new digital engagement platform www.waw2040.commonplace.is  
For more information on Black Country Foodbank visit Home - Black Country Food Bank