Bins and recycling
Recycle it right this Christmas
Bin collection schedules have been arranged this year to enable continuity for recycling and rubbish collections.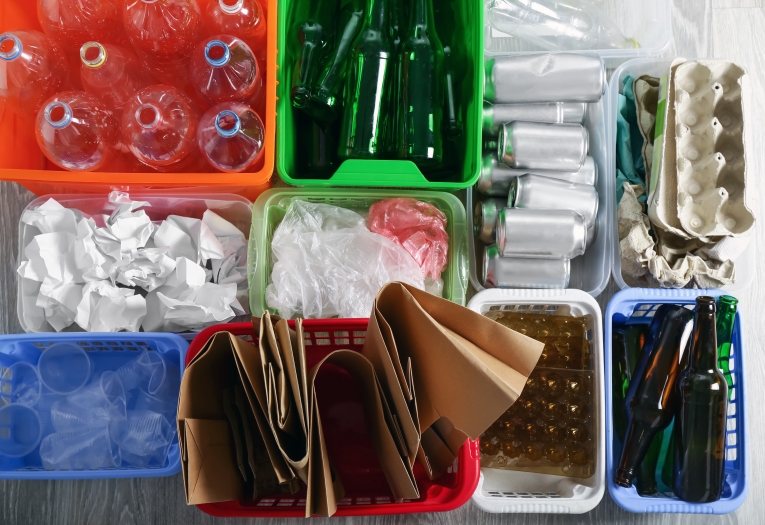 Christmas and New Year recycling and waste arrangements for residents and businesses have been announced, with households experiencing minimal disruption to their usual collection days during the festive period. Bin collection schedules have been arranged this year to enable continuity for recycling and rubbish collections.  Residents are reminded to put their bins out for collection every two weeks on their usual collection day and are also encouraged to visit the two free-to-use household waste recycling centres to dispose of any extra household waste.
In order to maintain a normal scheduled bin collection service over the Christmas period, green recycling and grey rubbish bins will continue to be emptied as normal on the usual collection day every two weeks over Christmas and New Year, other than Monday 26 December — bins will be collected on Tuesday 27 December 2022 instead.  This will not impact on collection for those residents who would receive a normal collection on the Tuesday, as this will take place as scheduled.
The online postcode bin collection date finder has been updated and calendars of collection days have been uploaded so that residents can print off their own calendar if they wish to do so.
" I would like to thank residents for supporting our key workers who have continued to collect recycling and waste over the course of another challenging year. Our crews really appreciate all the messages of thanks and support that they receive at this time of the year and I also really appreciate the hard work they do in all weathers throughout the year.

We understand that you may have some additional waste over this period and continue to encourage everyone to manage waste well and 'recycle it right' this Christmas. Excess waste can be taken to your local household waste recycling centre sites at Merchants Way in Aldridge and Fryers Road in Bloxwich. Both sites are open throughout the Christmas and New Year period, only closing on Christmas Day, Boxing Day and New Year's day.

We also have live stream web cameras in operation on these sites so you can look online to see how busy the centres are and view any queues before you travel there. "
Residents can also use their brown bins to temporarily store any additional bags to help manage their waste as side waste (bags and other items placed by bins) will not be collected. Brown bins will need to be clear of all rubbish before the garden waste collection season starts in 2023.
Visit our bins webpage for bin collection dates, opening times and live web streams for household waste recycling centres and advice on how to 'recycle it right'.
-Ends-
Notes to editor:
Real Christmas trees can be taken to the household waste and recycling centres, once cleared of tinsel and other decorations, for composting.
Artificial Christmas trees will not be accepted for recycling.
Simple cardboard Christmas cards can be put in the green recycling bins, but glitter, ribbons and other decoration can't be recycled.
Wrapping paper – the simple rule of thumb is if it's scrunched in the hand and doesn't stay scrunched up, it should go in the grey waste bin as it isn't suitable for recycling.
Residents can also arrange collection of bulky household items: https://myaccount.walsall.gov.uk/bulky-waste/