Waste and recycling
New initiative for legitimate scrap metal collectors
Leader of Walsall Council, Councillor Mike Bird, announces a new initiative for legitimate scrap metal dealers.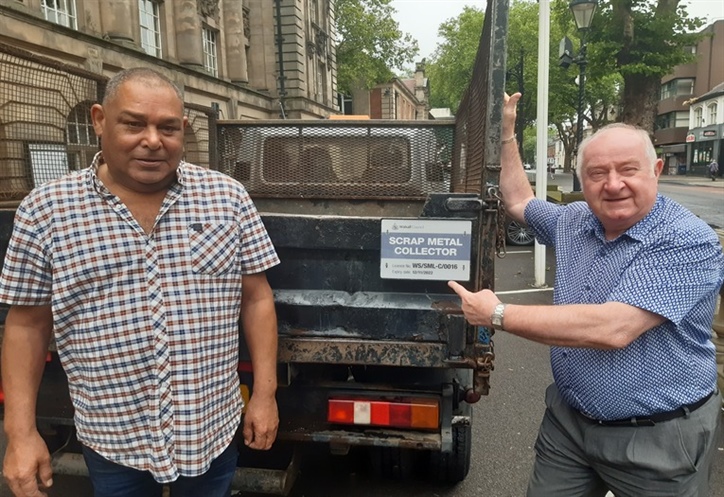 Since the introduction of the Scrap Metal Dealers Act 2013, there has been a drop in the number of licence holders in Walsall by as much as three quarters.
Unfortunately, thefts of metal in the West Midlands hit a three-year high last year and, while the two issues may not be related, Councillor Mike Bird, Leader of Walsall Council, felt that something needed to be done to alleviate the situation.
A new initiative has been introduced whereby scrap metal collectors who are currently licensed will be provided with a bigger more visible identification plate that can be placed on their collection vehicles. This will help residents across the borough to easily identify whether a collector is licensed and will also make enforcement against unlicensed scrap metal collectors easier for the council and its partners.
" This is something I've been very keen to see us do for a long time. We have a significant problem across the borough with unscrupulous scrap metal collectors and this initiative is an important piece of the jigsaw we're putting together to fight the blight of fly-tipping across the borough.

Yes, the unscrupulous collectors take resident's old fridges away, but they're only after the motor — the rest of the fridge 'carcasses' they've collected that day will very quickly end up being fly-tipped.

It was great to meet Paul Dangerfield from Willenhall today, who is one of the first local scrap metal collectors to sign up to this scheme and I'd like to thank him for his support and also taking time out of his busy day to meet up with me.

To other scrap metal collectors in Walsall, I'd say 'be like Paul' and advertise to residents that you're above board. "
" I've been in this business all my working life and I'm proud of what I do. I make sure I'm properly licensed and also properly insured as a scrap metal collector. Not everyone does this and they give the rest of us a bad name.

I'm pleased to be involved with this scheme as it will help get those who aren't properly licensed and insured off the road. "