Parks and countryside
Council secures £150,000 from the Woodland Creation Accelerator Fund
Walsall Council has been awarded £150,000 in funding from the Government's Woodland Creation Accelerator Fund to boost tree planting and rewilding initiatives across the borough.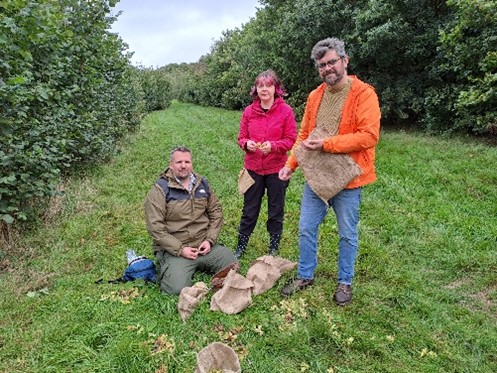 The Woodland Creation Accelerator Fund provides local authorities with financial support to help them employ, train and bring on board professional expertise to drive tree planting and woodland creation commitments. 
The funding will initially kickstart tree planting activity, create new green jobs and increase access to nature for the general public by employing new staff to drive woodland creation in the borough. Over the next two years Walsall Council has pledged to complete 14 hectares of tree planting and is currently securing funding for community orchards and micro-woods, with a longer-term plan of raising the current canopy cover of 11% to 20% by 2040.
Two rewilding officers have already begun new roles with the council and will now actively engage with local groups to drive woodland, grassland, and wildflower creation activities. Rewilding is the process of restoring ecosystems, reintroducing native species, and promoting natural processes to enhance biodiversity and create more resilient landscapes. It is not just the landscapes that look to benefit from this investment. According to the charity 'Rewilding Britain', in the last 10 years concerted rewilding efforts across England and Wales have led to a 65% increase in jobs, leading to boosts in wildlife, tourism, and the local economy.
" We are delighted to receive this funding from The Woodland Creation Accelerator Fund for our own 'Rewilding Walsall' initiative. This landmark project marks a significant advancement in Walsall Council's commitment to environmental sustainability and its goal of achieving net-zero emissions by 2041. By harnessing the power of tree planting, the council hopes that not only are they investing in a greener and healthier future but also contributing to the long-term economic growth of the borough. "
This substantial investment is poised to yield a significant impact throughout the country, fostering the creation of over 100 new green jobs nationwide.
Ends
Notes to editors
Walsall benefits from extensive countryside particularly in the east of the borough. Green spaces include Barr Beacon, Pelsall Common, and Brownhills Common, and popular urban parks notably Walsall Arboretum, Willenhall Memorial Park and Palfrey Park. In total, Walsall has ten parks and green spaces that have been awarded prestigious Green Flag Award status.