People and communities
Communities invited to pitch and crowdfund for projects in Walsall
Crowdfund Walsall has launched its fifth funding round, with voluntary and community sector groups invited to pitch and crowdfund for projects.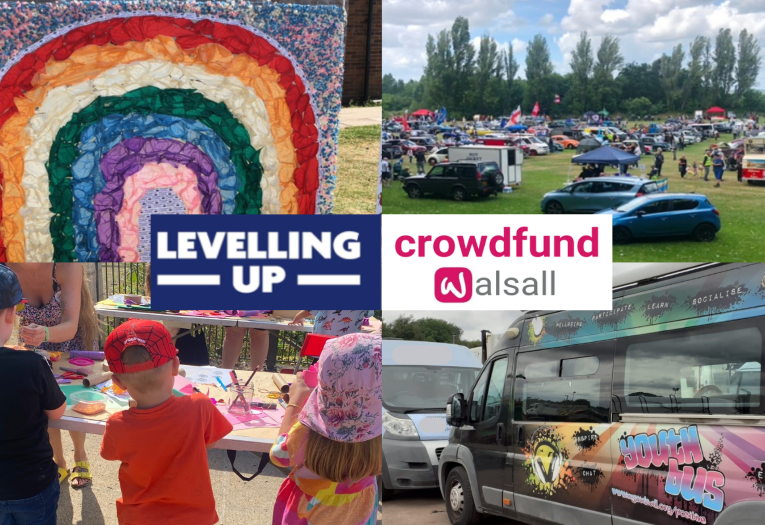 Crowdfund Walsall is inviting communities across the Borough to pitch a project idea that will improve places, spaces and the quality of lives of Walsall residents. 
Launched by Walsall Council in partnership with Spacehive two years ago, Crowdfund Walsall is an initiative that helps the voluntary and community sector to secure funding for projects through crowdfunding.  
Crowdfund Walsall has launched its fifth funding round, which includes the new UK Shared Prosperity Fund of £100,000 for two years, which will be available for pledges up to 60% of the total project value or a maximum of £5,000. The funding will support community-led projects that foster a sense of local pride and belonging and build resilient, healthy and safe neighbourhoods for people to live, work, play and learn. The fund will pledge to projects that increase capacity building and infrastructure support for local groups.  
The latest round will also see the continuation of the Public Health – Tackling Inactivity Fund. With £40,000 of funds remaining, Crowdfund Walsall can pledge up to 60% of the total project value or a maximum of £5,000. This funding will support projects that promote physical activity within communities, with a focus on addressing health inequalities.  
In the previous funding round, projects supported through the Tackling Inactivity Fund included free basketball sessions in local parks, sessions to monitor blood pressure and promote heart health, a walking trail and an outdoor community gym for children and young people aged five to 11 years old. 
" I continue to be inspired by all the projects supported by Crowdfund Walsall, which have made a difference to the lives of residents across the Borough.

Since Crowdfund Walsall launched in 2021, the programme has supported voluntary and community sector organisations to raise £219,822 for 23 grassroots projects, helping to create more resilient and supportive communities.

The latest funding round is an exciting time for the voluntary and community sector in Walsall. We look forward to hearing your project ideas and discussing how we can support you in reaching your goals, whether to increase active living or create a sense of belonging and pride for communities to come together and feel included and safe where they live. "
As with previous funding rounds by Crowdfund Walsall, funding is available across the two funds and up to 80% of the overall project total could be funded (up to £10,000 maximum). 
For more information visit the Spacehive microsite or email externalfunding@walsall.gov.uk 
ENDS 
Notes to editor: 
This project is part-funded by the UK Government through the UK Shared Prosperity Fund. 

The UK Shared Prosperity Fund is a central pillar of the UK government's Levelling Up agenda and provides £2.6 billion of funding for local investment by March 2025. The Fund aims to improve pride in place and increase life chances across the UK investing in communities and place, supporting local business, and people and skills. For more information, visit the GOV.UK website.

Crowdfund Walsall gives local people the opportunity to create & deliver projects aiming to enhance our area. Our platform is a place to connect businesses, residents & communities to showcase ideas for the borough & attract funds.