Turning Point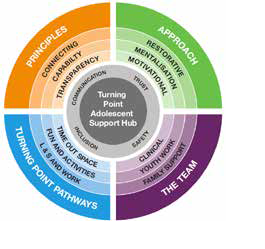 Turning Point is new service in Walsall that supports families and young people.
If there are worries around a young person and their family, we may get involved. We work to prevent family breakdown and young people entering care.
Our specialist knowledge
We are part of a multi-disciplinary team with specialist knowledge in areas such as:
children's social care
youth services 
NHS Speech and Language
substance misuse
children's adolescent and mental health services
Preventing family breakdown
We work with families to prevent family breakdown. We do this work alongside families where there is a lot of pressure and stress.
We work with all the family, but our main focus is on working with young people aged 10-18 and their parents or carers.
This age can be a wonderful time for growing and learning. However, it can also be a very difficult time, leading to a lot of worry and stress for all involved in the family home and the wider network.
When we work with families, we try and do a lot of listening and some talking. We also have some special tools that help us understand where you as a family are in terms of:
stress
anxiety
depression
trauma (for some families)
We will look at these areas and work for improvement. We will always ask you how you are feeling about the help.
We also have a young persons evaluator program. These young people continue to help us to get it right and they will undertake anonymous surveys of young people who have used the service so we can get honest feedback.
How to refer
Direct referrals are open to Early Help and Children's Social Care Only.
If other professionals have a worry about a young person, your first port of call is still through the safer partnership front door. 
At this point they will determine whether the case meets a threshold for intervention across the right child and right time window.
Feedback
As a new service, we welcome all feedback and the chance to improve our offering.
If you have referred a child to us or worked with us on a case, please leave us some feedback about your experience.