Health and wellbeing
Get active this August in Walsall
A programme of free activities and events in Walsall are taking place as part of the Birmingham 2022 Commonwealth Games.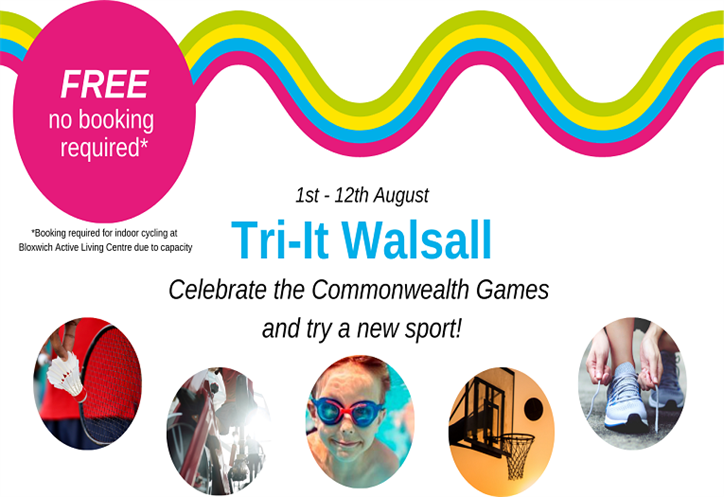 On Saturday 23 July 2022, Walsall hosted the Queen's Baton Relay, with the baton visiting Walsall Gala Swimming and Fitness Centre as part of an aquatics display before making its journey around Walsall Arboretum. It was a fantastic evening with a great turnout, as many people came along to witness the event.  
With the Birmingham 2022 Commonwealth Games well underway, Walsall Council has put together a programme of free activities and events during the first two weeks of August to encourage Walsall residents to get active.  
Residents can turn up without a booking to free 'Tri-It Walsall' activities at our four leisure centres, including under 8s swimming, badminton, squash and many more.  
In addition, two free 'Tri-It Walsall' park events will take place on Thursday 4 August in Reedswood Park and Friday 5 August in Willenhall Memorial Park. Activities include cycling, football, bowls and tai chi and run from 1.30pm – 4.30pm.  
There are a number of other things going on across the borough to encourage people to get more active in August. A pop-up Ping-Pong Parlour will be opening in the Saddlers Shopping Centre from Wednesday 3 August and is open to members of the public with no booking needed; simply turn up and have a friendly game of ping-pong for free. As well as this, West Midlands Cycle Hire are offering two free rides per day on their hire bikes situated in various parts of Walsall. Each ride is 30 minutes and the offer is running from the 27 July until the 8 August.  
" We have so many fantastic facilities across the Walsall Borough for people to access to increase their physical activity and we want to really make a point of showcasing what's available during a time where people are feeling inspired by the Commonwealth Games.

We take health and wellbeing very seriously and as a Council we are committed to supporting people to maintain or improve their health, wellbeing and quality of life. "